SOCKET OUTLET 16 A, 250 V, IP 44
Aluminium cable gland seals PG 16, cable Ø 11mm. The spring of the hinged cover is of stainless steel. Marine models with acid-resistant cover screws and nitrile rubber seals. RAL-7035 and Brown as standard.





The RAL-7035 color series products meet the highest UV protection and corrosion requirements. All 7035 products are with acid-resistant cover screws and oil-resistant gaskets.
UPCOMING: IP68 Socket outlet for industry´s toughest enviroment for offshore use, interested, This email address is being protected from spambots. You need JavaScript enabled to view it.
16A 230V 2P+E
Water proof and for Industry´s toughets enviroments. High quality material suitable against, dilute acid, oil, fat, alcal and tough use. Socket VDE-approval.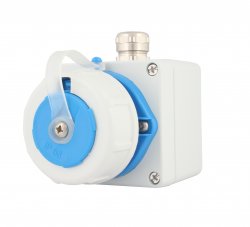 Customer modification with RAL-7024: USB
RAl-9007 modification: